How is the program structured?
The first semester is dedicated to the compulsory courses (continuum mechanics, material theory, numerical methods, scientific programming, engineering materials). During the following semesters students choose courses from wide range of electives. A special part of the curriculum is the one-week summer school which is given by internationally known researchers usually invited from other universities. This aims to introduce students to current developments in computational mechanics. The last semester is devoted to the master thesis.
To C@MPUS
The Module Guide describes the modules and the required courses belonging to the module. The Module Guide (also called module handbook) is published in the Campus Management System C@MPUS [de] (please click as follows: choose the degree - click on the book behind the study program's name).
Contact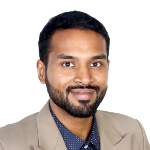 Siddharth Nirupama Sriram
M. Sc.
Doctoral Researcher
[Photo: Siddharth Nirupama Sriram]