On these websites the examination regulations and general information on the study program's structure are published. You can find all further information on the study program's website.
Information for new international students
An extensive welcome and orientation program, organized by the International Office, awaits our international students: assistance for your first experiences in Stuttgart, an orientation week, informative events and much more.
What job prospects are available to me after graduation?
Graduates of this program can apply their knowledge in almost all engineering problems. Examples are simulation of automobile crash tests, prediction of failure load of materials, modeling biological tissues, development of functional materials to be used in robotics among others. COMMAS is a strongly research oriented program. Therefore the students are also ideally prepared for careers at universities, laboratories and research centers.
Accreditation

The quality of this degree program has been certified.
Contact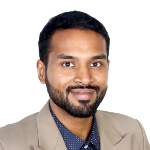 Siddharth Nirupama Sriram
M. Sc.
Doctoral Researcher
[Photo: Siddharth Nirupama Sriram]