Studying abroad: what opportunities does the University of Stuttgart has to offer?
Are you interested in going on exchange for a semester or two? Or would you rather do some research or attend a language course? Have you ever thought of joining a Summer School or planned an internship abroad? Whatever you have in mind for your exchange, the International Office will help you make your stay abroad an unforgettable experience. The first step will be to sign up online for our information sessions at the International Office that are offered on a regular basis. We look forward to your registration!
Studying abroad


information sessions, partner universities, language requirements, application deadlines, scholarships
Contact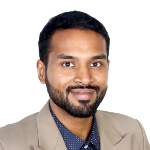 Siddharth Nirupama Sriram
M. Sc.
Doctoral Researcher
[Photo: Siddharth Nirupama Sriram]