Studying abroad: what opportunities does my study program offer?
In the 3rd semester, students can go abroad and not only broaden their professional expertise, but also their personal horizons. Various partner institutions offer interesting courses in the CL field, which can be credited towards our master's program Computational Linguistics.
Studying abroad: what opportunities does the University of Stuttgart has to offer?
Are you interested in going on exchange for a semester or two? Or would you rather do some research or attend a language course? Have you ever thought of joining a Summer School or planned an internship abroad? Whatever you have in mind for your exchange, the International Office (IZ) of the University of Stuttgart will help you make your stay abroad an unforgettable experience. The first step will be to sign up online for its information sessions that are offered on a regular basis.
Studying abroad


Learn more about options for studying abroad on the website of the IZ
Contact for further questions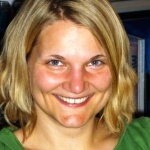 Stefanie Anstein
Dr.
study program manager BSc MSV & MSc CL; student advisor & contact person examination committee BSc MSV, MSc CL & MSc CS
International Service Point (ISP) Faculty 5
Phone: +49 711 685-67277 or +49 711 685-67926