How is the program structured?
Since the master's degree program "English and American Studies - English Linguistics" affords a choice of either the profile English and American Studies or English Linguistics you are technically making this choice by your first exam registration on C@MPUS for a given module. However, it would be advisable to let the degree manager, Thomas Wägenbaur know even before your application what profile you would be choosing.
To C@MPUS
The Module Guide describes the modules and the required courses belonging to the module. The Module Guide (also called module handbook) is published on the Campus Management System C@MPUS [de].
C@MPUS


Please click as follows: choose the degree and click on the book behind the study program's name.
Contact for further questions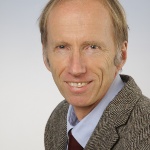 Thomas Wägenbaur
Dr.
Study Programme Manager Anglistics/English