Diese Webseiten für Studierende befinden sich derzeit im Auf-/Umbau. Alle hier fehlenden Informationen für Studierende finden Sie auf der Webseite des Instituts für Maschinelle Sprachverarbeitung.
Der Studiengang Maschinelle Sprachverarbeitung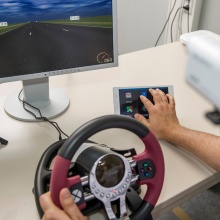 Bachelor of Science
Einführungen und Tipps
Checkliste des MWK BW zum Studienbeginn:
Hinweise für Studierende aus dem Ausland
Auf internationale Studierende wartet ein umfangreiches Willkommens- und Orientierungsprogramm des Dezernat Internationales: Hilfestellungen für die ersten Schritte in Stuttgart, Orientierungswoche, Informationsveranstaltungen und vieles mehr.
Anschluss-Studium: Mit welchem Master kann ich weitermachen?
Im Anschluss kann z.B. der englischsprachige M.Sc. Computational Linguistics des Instituts für Maschinelle Sprachverarbeitung der Universität Stuttgart absolviert werden.
Welche beruflichen Perspektiven eröffnet mir der Studiengang?
Der Abschluss Bachelor of Science Maschinelle Sprachverarbeitung qualifiziert für die Arbeit in Firmen, in denen Sprachtechnologie und Kommunikationsprozesse im Vordergrund stehen. Typische Arbeitsbereiche sind die (Teil-)Automatisierung von Sprachverarbeitung, das automatische Erstellen und Analysieren von Sprache und Texten, elektronische Wörterbücher, Suchmaschinen, Dialogsysteme, (Social) Media Monitoring oder der Aufbau von Textdatenbanken.
Akkreditierung

Die Qualität des Studien­gangs ist in einem Zer­ti­fizier­ungs­ver­fahren geprüft.
Kontakt
Dr.
Stefanie Anstein
Studiengangsmanagerin BSc MSV & MSc CL; Fachstudienberaterin & Ansprechpartnerin Prüfungsausschuss BSc MSV, MSc CL & MSc CS