How is the program structured?
The Master's program comprises 120 credit points (ECTS credits), which are completed in a standard period of study of four semesters. The credit points are distributed among in compulsory elective modules (24 ECTS credits), specialization modules (48 ECTS credits), supplementary modules (18 ECTS credits) and the master's thesis (30 ECTS credits).
From a choice of six specialization modules, four are compulsory for students in the Master's program. The specialization modules are taken from two specialization tracks, each with 24 ECTS credits. In addition to the specialization modules, supplementary modules are chosen. These include the modules of the specialization part that go beyond the required 24 ECTS credits and all specialization fields, unless these have already been completed as part of the specialization. Within the supplementary part, 6 ECTS credits of subject-related key qualifications can be taken as an option.
In the specialization modules, the fundamentals from the bachelor's program are deepened and supplemented. A wide range of specialization modules allows a multitude of possible combinations. This enables an individual education that takes into account the personal interests of the students. Writing the master's thesis promotes the independent development of scientific topics, the application of scientific methods in aerospace engineering and their further development in selected areas.
All modules and their descriptions are listed in the C@MPUS system.
Link to C@MPUS
Master Overview Plan Tool
Here you can find an Excel tool to help you with the master overview plan.

Please send the correctly completed Master's Degree Overview Plan as a .pdf file via email to the Examination Committee pa06@ifb.uni-stuttgart.de for signature, this is required to obtain the Master's Degree.

If you have any problems, please contact masterplan@flurus.de
Software licenses
In the course of the study different softwares will be required. Most of them require a license. In the following you will find the available licenses.
Siemens NX


License software for the CAD program Siemens NX

CATIA


Limited floating licenses of the CAD software CATIA, version CATIA v5 R21 from 05.07.2011 are available for "Darstellungstechnik II" and final theses for students of aerospace engineering - registration at mein.flurus.de required.

More licenses


Other licenses at TIK
Contact for further questions
Michael Reyle
Dr. rer. nat.
Academic Employee, Program Manager Aerospace Engineering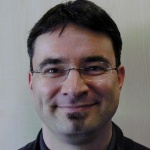 Christian Koch
Dr.-Ing.
Manager Altitude Test Facility, Academic advisor, deputy head of the institute