In cooperation with the student council stuvus, the University of Stuttgart wishes you "Avete Academici – a very warm welcome!". This virtual event will give first-semester students an overview of the facilities and opportunities at the University of Stuttgart.
How to join us
The welcome event for first semester students will be transmitted via the University of Stuttgart's Webex platform. Please plan 5 minutes for registration. You can participate directly via the browser and you do not need to download any software. You do not need to submit your "real" name for the registration, you are welcome to use an alias. And: turn off your microphone and camera.
The log-in data is as follows:
https://unistuttgart.webex.com/unistuttgart/onstage/g.php?MTID=e7f48f55b1b71da840faadce975e11f62
Dear Students,
today is your first day as a student at the University of Stuttgart. I am delighted that you have joined us and would like to offer a warm welcome on behalf of the university Rectorate! My name is Wolfram Ressel. I am Professor of Road Design and Construction. As Rector of this university, I would like to take this opportunity to welcome you all to the University of Stuttgart.
Today is a special day for all of you. A life-changing phase has begun, where you will meet new fellow students, some of whom will become your friends during your time at university and beyond. Some of you have relocated to Stuttgart and now have the opportunity to make the most of the state capital and the region of Stuttgart, with all its exciting possibilities. You will of course also be able to deepen your knowledge of your chosen subject area and focus on what interests you the most.
Sometimes, a university is referred to as an "Alma Mater". This term is even older than the University of Stuttgart itself – incidentally, the university was founded in 1829. Admittedly, the Latin term "Alma Mater" sounds just as old when translated into English: university as a "nourishing mother". But this idea of a university as a 'mother', feeding her children with education and knowledge, fits perfectly to this new phase that you, as new students, have now embarked upon. Maybe you are here, because you want to help redesign mobility in Stuttgart; or maybe you are interested in artificial intelligence and robotics, or you want to be part of the quantum physics revolution. Maybe you are training to be a teacher – or you want to help design the future by focusing on the fields of economics, social science, or humanities. Wherever your interests lie: at the University of Stuttgart, you will meet experts, who are there to "feed you with knowledge", but who will also encourage your innate curiosity and help you to make your own discoveries.
If we stay with the family metaphor, the University of Stuttgart also stands for many diverse relationships. As you may have noticed, future issues as extremely important to us. Many different disciplines come together to solve the problems of tomorrow. This also applies to the interaction between natural sciences and humanities subjects, for example in the study program "Digital Humanities". This subject encourages and promotes relationships to other research institutions. For example, in the field of Medical Technology, the universities of Tübingen and Stuttgart work closely together. In the field of teacher training, we cooperate with the Ludwigsburg University of Education. Furthermore, the University of Stuttgart is also a member of the TU9 – an association of Germany's nine leading technical universities. And it is also highly regarded internationally for its research and science. Finally, we also benefit from an extensive network of contacts in the world of work. This helps you to concentrate not only on the future of society, but also on your own professional development.
But you know all that already, or you wouldn't be here. I wish it were possible to meet you personally today, but as with so many things at the moment, even a welcome speech has to be adapted to meet the changes brought about by the corona pandemic. The teaching staff has faced particularly grueling challenges over the last few months, and we are very much looking forward to the time when lectures can be held in the auditoriums once more, and when meetings can simply take place in passing. But until then, one thing is certain: the university is well aware of its responsibilities when it comes to implementing the necessary changes due to the corona pandemic. We are working hard to provide you with the best possible conditions for studying successfully. Our goal is to help you get the best start possible at the University of Stuttgart.
We – and be "we" I don't just mean the university rectorate. "We" also refers to the our staff at the International Office, which is there to offer advice and support. A lot of events and meetings are currently being held online, but we are still there to support you wherever you need us. If you have any difficulties, please make use of the consultation hours if you need some personal advice. "We" also means the MINT College, which is there to help facilitate the transition to studying at university. "We" is also stuvus, the University of Stuttgart's student representatives. And "we" is also many more people, who are committed to the university and who all help and support each other.
As new students, you are also part of this group. Maybe you will also get involved in a student council or play an instrument in a university band or group, or learn a language, or take part in a sport – these also operate online. You belong to the university because you are enrolled – or immatrikuliert as it is called in German, and in this word you can also hear the similarity to the word "Alma Mater", and that means: you are now one of us, which I am delighted about.
I hope you make the best possible use of your time at the University of Stuttgart to learn and to soak up knowledge and education. What you learn today can help you to change the future. I also hope that you enjoy researching and sharing knowledge, that you find people to accompany you along the road to knowledge, and that studying in Stuttgart is simply a whole lot of fun.
Once more: a very warm welcome to the University of Stuttgart!
Dear First-Semester students,
On behalf of the state capital city and Fritz Kuhn, the city Mayor, I am delighted to welcome you as new students to the University of Stuttgart – unfortunately this year in digital form only. Nevertheless, I wish you all a very warm welcome to Stuttgart.
My name is Thomas Fuhrmann and I am a city mayor, responsible for the economy, finance and investments of Stuttgart, the state capital city.
Due to the corona pandemic, everything is very different his year: there are no "real" events where you can meet fellow students and talk to them personally – lots of aspects of our lives have moved to the digital world. Even lectures are currently being held mostly online – a new form of studying that is hopefully exciting and informative, but that brings its own difficulties and challenges. I hope, of course – as I'm sure you do too – that you can soon study on-site at the University of Stuttgart once more and that you are soon able to go out and really discover the city. That is why I would like to take this opportunity to introduce you to Stuttgart.
You have made a good choice. The University of Stuttgart is a big university, renowned for its research, and located in the economic center of the Stuttgart region. It is also regularly placed near the top in university rankings.
Stuttgart is a renowned transport and mobility hub, home to many large companies and their suppliers. Further business focuses include the IT branch, mechanical engineering and aerospace engineering. These are also the most popular subjects at the university. Stuttgart is also an important financial and creative hub.
The basis for city's economic success is its expertise in the research sector: Stuttgart is one of the country's strongest regions in terms of research, and 45 percent of research and development capacity in the state of Baden-Württemberg is concentrated here. Stuttgart is also a leading region in patent applications, not only in Germany, but in Europe.
And that is one of the great advantages of Stuttgart: you don't have to leave the city after successfully completing your exams. There are numerous employers right here that offer a wealth of attractive career opportunities.
City life is limited at the moment because of the corona pandemic, but I hope that you will soon be able to experience the city's excellent museums, theaters, operas and ballet; not to mention the street and city festivals.
Stuttgart is a large city with a high standard of living and many opportunities – 50 % of the urban area comprises green areas - parks, woods, water or leisure areas – it is worth getting out into nature even in the fall, whether you go for a walk around the Bärensee lakes or go for a jog through the city park.
The city of Stuttgart is changing rapidly, and one example of this is the huge Stuttgart 21 building project, which I am sure you have all heard of. The city is also a pioneer in terms of promoting new and sustainable mobility. Go for a bike ride around the city or rent an ebike – there are fantastic views of the city to enjoy from the higher areas.
And for you, my dear first-semester students, this is the beginning of a new and exciting phase. A phase that will help to decide your future and that will set the course for your professional and personal development. Some of you have moved away from home to study in Stuttgart. Many of you will now be experiencing how to stand on your own two feet for the first time. Some of you might be studying from afar. But, wherever you are, I wish you a good start to your studies. Stay healthy!
Dear students,
I'm Chris from stuvus, the students' council of the University of Stuttgart. I want to welcome you here from the students' point of view.
Welcome to the University of Stuttgart!
Obviously that's not all. I'll need to fill some time to the next video. Therefore I want to tell you things about the everyday part of university from the students point of view.
You'll probably have many expectations about life at the university from parents, teachers, acquaintances and and and…
Life at and with the university is diverse. You'll learn a lot and not just about your field of study. For all of you studying directly after school, university will probably mean one thing most of all: freedom.
This semester will be special for all of us. If you have experience with digital learning from school, some will also apply to university, some will not. But most of all, you'll need to act more self-sufficiently. I can only advise you to use offerings. Watch lessons, participate in forums. Ask questions. Nobody can and nobody will force you. Life at the university is individual responsibility but also freedom.
Probably at no point in life you'll have as much freedom as now during your studies. Use the freedom and go your own way. Develop yourself. Of course not everything will run smoothly, but don't give up - continue.
The university is your new space of living. You'll spend a lot of your time with fellow students in lecture halls (hopefully also this year) or in the libraries, if they are open.
This year it will be of utmost importance to create and stay in contact. Use offerings from your student group, link up and stay in contact (virtually). The University Sports, student groups and we (stuvus) have revolutionary offerings this year. Although your study is your personal task, it'll be way easier in a team.
Good luck, Have success, long nights and last but not least: Have Fun.
Market of Possibilities – we are looking forward to seeing you there!
Contact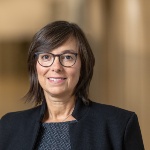 Claudia Berardis
Coordinator PR and Marketing, Online Editor