Studying abroad: what opportunities does my study program offer?
Our students are encouraged to participate in internships and studies abroad, which may be conducted in companies and various institutions for practical work experience, or in universities all over the world. This includes B.Sc. thesis in collaboration with research teams in Stuttgart, with numerous international partners available. Courses and examinations will be accredited for the B.Sc. in Technical Biology. The International Centre IZ and the academic student counsellors provide support upon planning, organizing, preparation of learning agreements and transcripts of courses, and accreditation.
30-40 ECTS may be acquired in a typical stay abroad, most preferably throughout the 4th and 5th B.Sc. term. In addition to own preferences, the ERASMUS partner universities of all faculties will accept students from our course of studies for financially supported international studies. Reports on the experiences during project work and studies abroad are available at the Degree Program Manager of Technical Biology.
Contact for further questions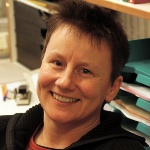 Prof. Dr. (apl.)
Christina Wege
Head of Research Unit Molecular & Synthetic Plant Virology
Coordinator NanoBioMater & Students' Advisor