How is the program structured?
In the Bachelor's degree program, the standard period of study is six semesters. The program is divided into core studies (semesters 1 to 4) and specialized studies (semesters 5 and 6). The degree is completed with the Bachelor's thesis.
Core studies extend over the first four semesters and comprise the fundamentals of engineering. In semesters 5 and 6, students have the opportunity to specialize and choose some modules according to their interests and inclinations.
By choosing two areas of competence, students define their own priorities. For this purpose, a total of more than 40 application- or method-oriented modules are available, which can be found in the current module handbook.
The detailed structure of the study program can be found in the study plan.
To be admitted to the program, students are required to complete a pre-study internship of at least eight weeks. The aim of the pre-study internship is to get to know the manufacturing of workpieces, their machining and operation as well as the company's social structures in a hands-on experience.
Proof of the completed pre-study internship must be submitted to the Interns' Office. The deadline may be exceeded in exceptional cases if the pre-study internship could not or not yet be completed for compelling reasons. In this case, the internship must be completed before the beginning of the third semester.
Studying at the university requires sufficient German language skills. International students must therefore provide appropriate proof. It is also possible to complete a language course at the university.
Contact for further questions on Mechanical Engineering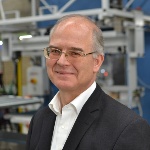 Jens Baur
Dipl.-Ing.
Head of Department Teaching and student affairs | Subject advisor mechanical engineering
Christine dos Santos Costa
Dipl.-Ing.
Head of Mechanical Engineering Center - contact person for general questions about study programs in the field of mechanical engineering