On these websites for students we publish the examination regulations and general information on the study program's structure. All further information can be found on the course website.
Information for new international students
An extensive welcome and orientation program, organized by the International Office, awaits our international students: assistance for your first experiences in Stuttgart, an orientation week, informative events and much more.
What job prospects are available to me after graduation?
Graduates will find employment opportunities in research and development (R&D), technical management or business sectors of industrial companies around the globe or continue with their scientific qualification towards a doctoral degree.
As all Master's programs, this degree allows for pursuing a dissertation or further habilitation. For non-EU nationals it is the key for a work permit.
Accreditation

The quality of this degree program has been certified.
Contact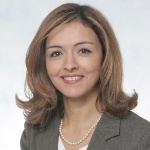 Dr.
Emna Eitel
Program Manager INFOTECH; Manager International Service Point Faculty 5