On these websites for students we publish the examination regulations and general information on the study program's structure. All further information can be found on the course website.
Introductory events in winter semester
Introductory event: Wednesday, October 4, 2023, 2 p.m. - 3(:30) p.m. CEST. The introductory event will be online; the link will be sent to our admitted students.
For getting access to the recording, please contact S. Anstein.
Information for new international students
An extensive welcome and orientation program, organized by the International Office, awaits our international students: assistance for your first experiences in Stuttgart, an orientation week, informative events and much more.
What job prospects are available to me after graduation?
Students who discover a passion for research topics and projects are particularly well-suited to an academic career at a university or research institution. If this applies to you, a Master's degree is required for working at a university as this enables you undertake a doctoral degree, or to work at a university or research institution.
Anyone with a Master's in Computer Science has extensive and research-oriented knowledge and skills in the field of Computer Science in general, but particularly in their chosen major. Because the study program is conducted entirely in English, our graduates have the opportunity to work internationally.
Based on the current job market, our graduates have excellent career prospects and are currently very much in demand. And over the last twenty years, Computer Science has always proved to be a subject with great potential on the job market, and this will remain so in the future.
Accreditation

The quality of this degree program has been certified.
Contact for further questions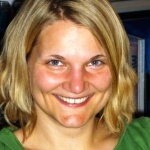 Stefanie Anstein
Dr.
study program manager BSc MSV & MSc CL; student advisor & contact person examination committee BSc MSV, MSc CL & MSc CS
International Service Point (ISP) Faculty 5
Phone: +49 711 685-67277 or +49 711 685-67926