Exam regulations: the basis of my studies
The exam regulation is only availabe in German since it is an official document.
The examination regulations (in German: Prüfungsordnungen) include a survey of the required modules.
Computational Mecha­nics of Mate­rials and Struc­tures (COMMAS) – Master of Science
Contact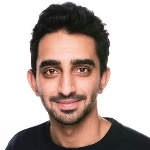 Hamza Khurshid
M. Sc.
Doctoral Researcher